Links
We will be adding links here that may be of interest to our residents.
NOTE as of March 27, 2021:
We are verifying current links below...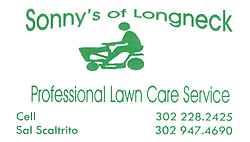 Sunny's of Long Neck, Professional Lawn Care Service is offering 10% off to WHB Homeowner Association (HOA) Members. Mention this ad when you schedule your appointment and be sure to show your membership card upon payment.
Let us know if your business can offer our members a discount!
Get a Free Ad here in exchange for a discount!
Have questions or good ideas? Need help?
Send email to: president@whbtenants.org

Or write to:


President, White House Beach Homeowners Association (HOA)


Al Zwiebel, President
35007 West Harbor Dr.
Long Neck, DE 19966