White House Beach Tenants Association, Inc.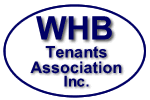 The White House Beach (WHB) Tenants Association, Inc. is a non-profit civic organization whose Members are residents in the White House Beach Manufactured Homes Community, Long Neck, Delaware.
We have an elected board of officers who represent association members in meetings with White House Beach Management, local authorities, businesses and other organizations. The association's fiscal year is April 1st to March 31st. The organization is about ALL residents helping each other. Ask the Board of Officers what you can do to help.
The White House Beach Manufactured Homes Community is owned by the Showell Family. For inquiries about lot rentals, boat slips, or amenities/policies/rental agreements, please contact their office at 302-945-3032. Visit their website at http://whitehousebeach.net
2017 Calendar
Recent Events
Our board membership changed June 24th at the annual picnic meeting. George Pilla stepped down as President and Jennifer Pilla stepped down as Secretary. Please thank them for several years of dedicated service to the community. Al Zwiebel has assumed duties as our new President. We also have three new board members. Please welcome back Helen O'Brien and Stacy Peterson, along with first-time member Paul King. Officer positions will be determined at our next board meeting.

At our last general meeting, residents voted to change the date of the Golf Cart parade from Tuesday July 4th to Saturday July 1st. We apologize if this caused any confusion. Three decorated Golf Carts received cash prizes of $100 1st place, $50 2nd place and $25 3rd place.
Remaining Events
August 26th (Sat): Fall Yard Sale. 7am-1pm. Sponsored event for entire community. Set up own tables at your home. Rain date: August 27th.

October 31st (Tue) Trunk N Treat. 6pm-7:30pm at office parking lot. Sponsored event for entire community. Bring candy for neighborhood children in your car trunk, golf cart or bag. This replaces trick or treat at individual homes.

December 21st: Christmas Decorating Contest. Judging for prizes for best decorated home. Members only event.
2017 Board Meetings
Our most recent board meeting was held in early August. Schedule to be determined for remainder of 2017.
Volunteers Wanted
We are looking for full-time residents to join our board of officers. Only a few hours involved per calendar quarter.

If you are interested in serving, please contact Al Zwiebel, or any other officer.
WHB Security Guard
WHB Security Guard: Tom Rudolph, Phone: 302-542-2918
Call any time for assistance, or to report suspicious activity, or ask questions. His goal is to keep our community a safe, happy and enjoyable place to live.

Beach Area
Reminder: The East Harbor Beach has NO LIFE GUARD. Please supervise your children appropriately, and never swim alone.
Delaware Manufactured Home Owners Association
About DMHOA

Members of the WHB Tenants Association are also members of the Delaware Manufactured Home Owners Association. All members are welcome to attend the DMHOA meetings and we encourage everyone to participate. Visit DMHOA's site
Wildlife Reminder
Supervise your pets! There have been reports of red foxes roaming throughout the neighborhoods at night.

Please do not harm the wildlife living in and near the water in our community. Horseshoe crabs, turtles and skates will be breeding in the water near the shoreline. Geese, ducks, and other birds are walking around eating bugs and grasses.
Reminder to ALL Residents
ALL RESIDENTS should have both your five digit 911 address and your old lot number displayed on your home (and mailbox).
Have questions or good ideas? Need help?
Send email to: president@whbtenants.org

Or write to:


President, White House Beach Tenants Association


Al Zwiebel, President
35007 West Harbor Dr.
Long Neck, DE 19966
Phone: 302-362-7834