White House Beach Tenants Association, Inc.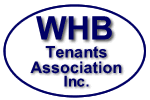 The White House Beach (WHB) Tenants Association, Inc. is a non-profit civic organization whose Members are residents in the White House Beach Manufactured Homes Community, Long Neck, Delaware.
We have an elected board of officers who represent association members in meetings with White House Beach Management, local authorities, businesses and other organizations. The association's fiscal year is April 1st to March 31st. The organization is about ALL residents helping each other. Ask the Board of Officers what you can do to help.
The White House Beach Manufactured Homes Community is owned by the Showell Family. For inquiries about lot rentals, boat slips, or amenities/policies/rental agreements, please contact their office at 302-945-3032
Upcoming Calendar for 2015
January 31, 2015 - We missed you at the General Meeting at Grotto's Pizza, Long Neck.

June 27, 2015 - Annual Picnic, General Meeting, and Golf Cart Parade
Picnic: 12:00 noon to 4pm.
Golf Cart Parade: Registration 9:30am and judging at 10:00am
General Meeting will be held at picnic for election of board.

August 15, 2015 - Community Yard Sale 8:00 a.m. to 12:00pm

August 22, 2015 - General Meeting 12:30 p.m.
at Grotto's Pizza, Long Neck.

October 31, 2015 - Trunk and Treat for Halloween
WHB Security Guard
WHB Security Guard: Tom Rudolph, Phone: 302-542-2918
Call any time for assistance, or to report suspicious activity, or ask questions. His goal is to keep our community a safe, happy and enjoyable place to live.


About Roy Roop: Our long-time security guard Roy Roop passed away May 17, 2014. Read Obituary here.
Other Notices
Playground News: WHB Management has informed us of plans to modify the playground area to provide a walk-in beach at a future date. When construction starts, portions of the playground area will be off-limits for approximately 30 days. Please supervise your children appropriately.

Harbor Area News: WHB Management has informed us of plans to dredge each harbor area over the next year to a depth of 4 feet. However, DNREC has no plans to dredge the bay, so boaters should use caution when departing WHB harbor areas.

Wildlife News: WHB Management has informed us that a bird sanctuary is being created near the park entrance. DNREC, the Army Corps of Engineers and the Center for Inland Bays are involved in this project.
Recycle Program
Scrap metal and aluminum soda/beer cans are needed to support our feral cat program. Please donate the cans from your next party. For drop off or pick up of large items, please call 945-6341
Delaware Manufactured Home Owners Association
About DMHOA

Members of the WHB Tenants Association are also members of the Delaware Manufactured Home Owners Association. All members are welcome to attend the DMHOA meetings and we encourage everyone to participate. Visit DMHOA's site
Wildlife Reminder
Swimmers be careful: There are young sand sharks in the Indian River Bay.

Please do not harm the wildlife living in and near the water in our community. Horseshoe crabs, turtles and skates will be breeding in the water near the shoreline. Geese, ducks, and other birds are walking around eating bugs and grasses. Feral cats are always present too. If you see a litter of kittens, please contact us immmediately.
Feral Cat Program
Attention ALL Residents: Please help support our Feral Cat Program to help keep our feral cat population under control. Click here to get more details
Please save and donate your aluminum cans for the cats!
Call 945-6341 for drop off locations.
Reminder to ALL Residents
ALL RESIDENTS should have both your five digit 911 address and your old lot number displayed on your home (and mailbox).
Have questions or good ideas? Need help?
Send email to: president@whbtenants.org

Or write to:


President, White House Beach Tenants Association


Helen O'Brien, President
27221 Sea Nettle Lane
Long Neck, DE 19966
Phone: 302-945-4560